Walmart Earnings
The market seems to have found the support area and seems to be getting a decent bounce if we look at the Dow Jones, S&P 500, and the NDX. However, when we look at the Russell index it seems to have been having difficulty getting above that 1150 area. Unless we can get the Russell to see a strong bounce as well, I think we could see some resistance in the narrower based indices.
---
Walmart Earnings

Courtesy of wikipedia
Continuing with the economic theme this last week, we continue to see weakness in the domestic consumer. The NFIB survey, retail sales, and earnings this week all spell the same story. This was further confirmed by the Vice-Chair at the Federal Reserve who believes long-term U.S. growth is really only 2% as we continue to face weak employment, wages, and production levels.
Walmart reports earnings this morning; does it further confirm the other data we have seen in the last couple of weeks? If there was ever earnings to help give us a pulse of the general consumer in the U.S., it would be Walmart.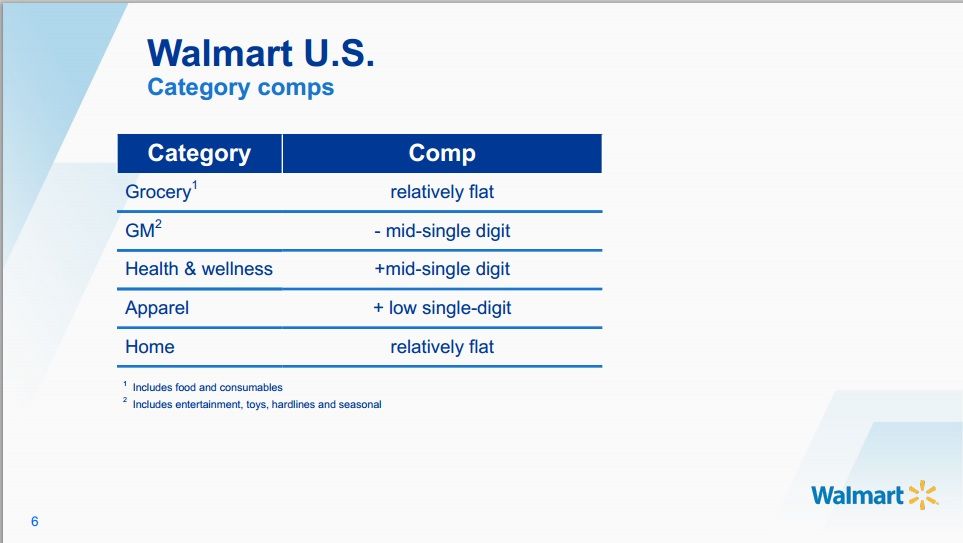 Walmart reported that same store sales growth was flat. Traffic fell 1.1%, but the average ticket sales climbed 1.1%. Part of the climb in ticket sales came from inflation. Their online sales did pick up slightly at .3%. The general numbers for U.S. sales and revenue showed that there was growth, which in a vacuum looks good, the problem is when you look at comparable growth the rate is slowing and that is a concern. Walmart had their full-year earnings per share guidance of $5.10 to $5.45 a share, while analyst had their expectations in the lower part of the range at $5.17. What shocked the market this morning is that Walmart drastically lowered their full-year guidance to $4.90 to $5.15, below analyst estimates. The concern is that this is the 6th consecutive quarter with flat or negative same store sales. This is also the 8th straight quarter they cut guidance.
---
Walmart BRICS
There remains good news, their international business seems to show some strength. Currently about 38% of total revenue, it remains the strongest growing component for the company. Walmart has expanded into the UK, Mexico, Canada, Brazil, and China. Brazil saw the largest growth in the quarter, up 9.7%, much of that was helped by the World Cup. The drop in China sales and traffic seem like a concern, but what is not reported in China numbers is their e-commerce (online sales), instead they are a 51% partner with an online-retailer called Yihaodian. The online retailer saw 70% growth in 2013 with $1.9 billion (US dollars) in sale and is expected to increase 50% this year.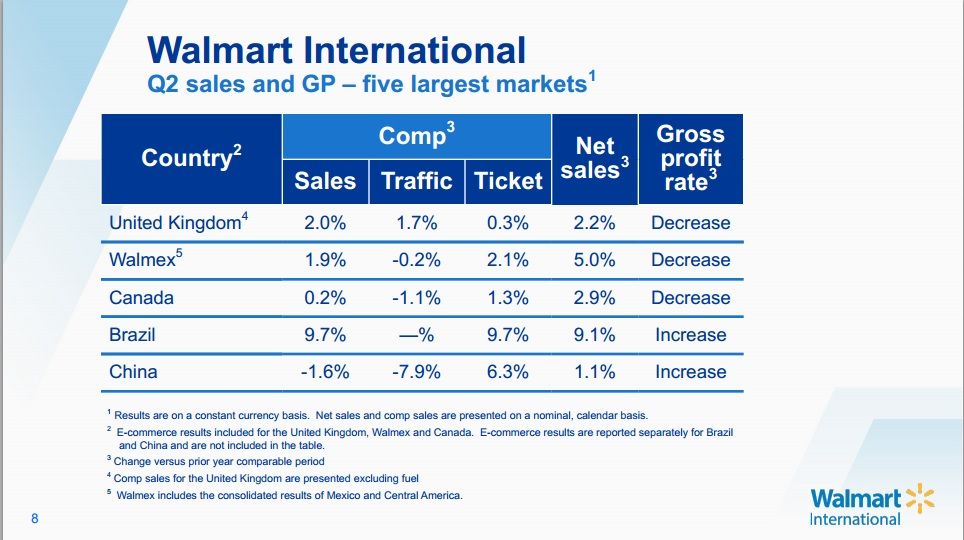 Hybrid Amazon?
They are also making a bigger push in the U.S. to e-commerce. While not super strong, it did see a lift of .3%. There website has improved and they are getting more traffic. Could Walmart become a hybrid-Amazon company in the future? It looks like that is their strategy; one only has to look at their Chinese partnership and growth.
Some Questions
Looking at the entire Walmart picture we see a similar story; U.S. sales and traffic remains very weak, in fact comps have been flat to negative for 6 consecutive quarters. Meanwhile, while international business is less than 40%, it is growing and growth the strongest in the emerging markets (BRICS). Their online overseas business partnerships is growing like gangbusters.
There are a few questions:
1. Is international growth strong enough to overcome the stagnation in U.S. sales? The company and analyst don't seem to think so as they have lowered full-year guidance. (Note: part of the lowering of guidance is based on investments.)
2. Will Walmart look to an inversion or some other strategy that eventually spins off business from BRIC and emerging markets? Remember they do NOT repatriate many of their over-seas earnings; they are partnered with overseas companies, and their remains contentious trade relations between the U.S. and some nations they have a presence in. Any segregation strategy that would spin off over-seas business into a new entity would significantly change the over-all picture for the stock and company. If current political/trade/economic environments remain challenging, the probability only increases that we see something change.
3. Will U.S. taxes, fines, regulations, Obamacare, and trade policies impact forward earnings (revenue and net income)? The company already stated an impact of higher domestic healthcare costs. It has also faced fines and additionally regulatory trade hurdles. As pointed out in question 2, the more difficult the environment the more motivated it is to move.
---
Walmart confirmation
The big picture confirms what the NFIB, retail sales, same store sales, inventories, and general job market is reflecting the U.S. domestic economy's growth is tepid and weak. Companies continue to seek growth in the BRICS and emerging markets.
This also lowers the possibility of any rate hike and complete elimination of accommodation. As pointed out before, Fed's Vice-Chair Fischer has stated a similar bleak outlook and this helps sets a tone for justification for keeping rates low and the possibility for continuing QE or some other accommodation strategy.
---
Support & Resistance
INDU 16,600+
Can we keep this bounce out of the consolidation zone going? I think it will either stall falling back to 16,400 – 16,600 consolidation zone or we will see a snap-short-covering rally back up to 16,900-17,000. It will NOT be a slow steady climb higher, especially if the shorts get caught out.
NDX 3950?
We rallied back up to the previous support and now resistance. Getting above that level and putting in some volume and we could push back up towards 4,000.
SPX 1940+
Similar to the Dow Jones the SPX is testing a break-out move from the consolidation, if it can get some steam it could catch the shorts out and we could see a snapping rally back up to 1960-1970 range. The VIX is looking to move below 13 and if we get that snap-covering rally we could break below 12. If we stall out, expect a move back into the consolidation zone.
RUT 1150
I think any snapping rally will be based on whether the Russell can also get back up to and through the 1150 level with some force and volume. If we see the RUT stall and contract back into the 1110 – 1130 consolidation zone, expect the narrower indices to follow suite.
---
As I have stated I am not buying into this being a correction just yet. Certainly the domestic and even European economic data looks weak and the tepid growth is stalling. Italy is in an official recession now and Greece and Spain are not far behind. Yet the market has ignored the geopolitical tensions in the Middle East and Ukraine. It has ignored negative GDP growth in the first quarter. It has ignored weak retail sales numbers and a general consumer slowdown domestically.
The reason is simple; there is nowhere else to go with your money. Equities remain the place to be. The Fed will continue to remain accommodative, interest rates will remain at zero, and I think heading into the mid-terms we will see anything and everything by the Fed to keep the market aloft.
So I don't think we will see any correction just yet, but that doesn't mean it can't happen. I just think the Fed still has enough muscle to keep the game going for now.
BTW: Weekly Jobless Claims increased 21,000 to a "seasonally adjusted" 311,000. The prior week was revised higher, of course. Back above 300,000 is not good news for the health of the labor market.