NO RATE HIKES
The stars are aligning for the Fed.
They will NOT HIKE RATES in 2015.
NO RATE HIKES
The Fed has clearly said they are "data dependent", so if we look at the data it is telling us they are NOT going to raise rates. Remember they have a "Dual Mandate" which is maintaining a strong labor market and also price stability – which is keeping inflation and deflation in check.
Let's review:
---
Labor Market
Job creation: WEAK and declining.
The average job creation has been increasing since 2010. Last year average job creation per month was 260,000, this year it is only 198,000. A decline of 24%.
142,000 in September (below 206,000 expectations) in September 2014 it was 250,000.
136,000 in August (revised lower from 173,000) in August 2014 it was 213,000.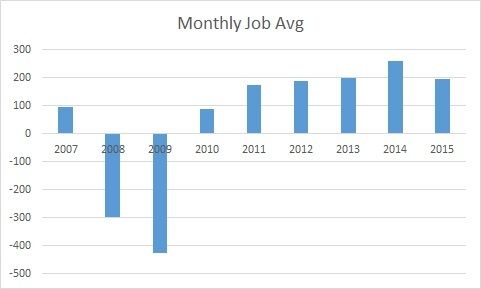 Participation Rate: Continues to decline
This reflects less people are being included in the labor market. The sharp decline since the crisis shows that more people are falling out of the labor pool and no longer counted into the unemployment data. We are now at 1970s low and continues to decline. This has artificially lowered the U3 unemployment rate. The Fed no longer uses the U3 rate as a measure for making monetary policy changes, primarily because of the decline in Participation Rate.

Courtesy of FRED
The broadest measure of unemployment is the U6 and if we add back in the decline in the Participation Rate and also the decline in Labor Flows, unemployment rate is running at 15%.
Wage Growth remains stagnant; the concern is so great it has become a talking point in the current election cycle.
---
Inflation
The Fed has targeted 2% inflation rate and are very concerned about disinflation (a decline in inflation) and mortally fearful of deflation (actual contraction), which the Fed believes was a principal factor in the lasting problems of the Great Depression of the early 20th century. The UK reported earlier this week their deflation (contraction) for the first time since 1960. There is growing concern that we too will see deflation.
The Fed uses 3 different measures for inflation, the Consumer Price Index (CPI) which is the most closely watched, the Producer Price Index (PCI) which measures inflation among business, and the Personal Consumption Expenditures (PCE) which the Fed believes is the best measure.
This morning the CPI report showed a decline of .2% in September, the biggest decline in 8 months. This followed a .1% decline in August. We are currently running a 12-month average of zero, setting just above a DEFLATION. We had a brief visit of Deflation in January 2015 with an unusually low monthly CPI contraction, but that reverted back. Some said it was the warning that deflationary pressure is upon us and we will see longer term deflationary pressure. The Fed was able to refute the concern as they focused on the CORE CPI (minus food and energy), which still showed positive signs.
The PCE, which the Fed follows more closely has stated it is the inflationary measure they like to use has been seeing a decline and the trend has not changed. The headline number has taken a serious drop to .33, but that is mainly food and energy. It is far below the 2% target the Fed has set.

Courtesy of FRED
The Fed however, with the rise in the dollar that has put pressure on oil/gas prices, instead likes to look at the "core" reading (which removes food and energy), it too is still below the 2% target and declining. The graph (12-month average) shows through August 1.41%, but September's reading fell again to 1.31%.

Courtesy of FRED
---
Conclusion
If we believe the Fed is data dependent, the labor market is starting to look weak and there are some concerns that we could start seeing a longer trend in declining labor market conditions. The inflation picture is showing disinflation and we could see deflation if that trend continues.
As far as the "Dual Mandate" and the data the Fed supposedly uses to determine monetary policy, then no – there will be NO RATE HIKE in October. In fact, I don't see in the next month anything radically changing to show improvement to even suggest a December Rate Hike.
My prediction, based on the data alone, there will be NO RATE hike in 2015. Perhaps we will not even see one in early 2016, if the earnings data which is showing top-line revenue contractions and possibly a weaker holiday sales.
In fact, I think there is a higher possibility of more easing (QE or similar measure) than there is a possibility of a rate hike.
---
Support & Resistance
INDU 17,000
We saw a decline yesterday and the market seems to have stalled. Earnings data has not been good and weaker forecasts are elevating concerns. Walmart's miss yesterday was a huge drag on the market and the Dow Jones. We are getting a little bounce this morning, but watch to see if we can close above 17,000.
NDX 4300 – 4400
For now this index, which can be very volatile, seems to be stock in this range. I would be hesitant to get long or short, without hedging and owning Gamma.
SPX 2000
Is a straddle strike, much like the Dow Jones we came off and we are now testing this area to see if we can continue this bouncing rally. However, there are some broad economic and earnings concerns. We can easily visit 1980 or 2020 – so expect this to be a straddle strike and its time to own cheap Gamma.
RUT 1140
We are hanging out here and could be here today, however Friday could see some runs for the exits if earnings continue to look weak. Watch how we close a move to 1160 or 1120 is in the cards for Friday. I think the down side is more likely with weak earnings and economic data. People want to be safe and take some risk off the table after the bounce heading into the weekend.
---
The Fed continues to talk as if they are going to hike rates. It seems more like rhetoric and trying to talk up the economy, additionally they have set expectations in their failure at message crafting that these monetary measures are TEMPORARY. Until they remove that notion, we are going to constantly second guess what the Fed will do and their "talk" will drive volatility.
Looking at the data, and if they are data dependent, there is no way they are hiking rates in October or December.
Talk is cheap and if they do NOT hike in October or December, will the media eventually see them as the boy who cried wolf?