Ford Earnings Example
Volatility has NOT left the market and we should expect it to remain until the FOMC meeting clarifies their monetary policy and forward guidance. Until then the market and media have turned their attention back to earnings, geopolitical volatility (Hong Kong / China / ISIS), and Ebola. These events are certainly causing jitters in the market, but the Fed's monetary policy can bring calmness and certainty, which I suspect will be the case.
The earnings story this quarter has certainly been mixed. While we have over 60% of the S&P 500 companies that have reported so far beat expectations, the forward guidance and concern about the strong dollar has created trepidation. However, in just a few days we will know if the Fed will up the ante on their already Dovish position, which could curtail the dollar rally.
The Dow Jones is only 30 stocks and some of these have reported misses and concerns, keep in mind that the Dow Jones is not representational of the market as a whole. IBM's recent miss put significant pressure on the index and Coca-Cola's lowering forward guidance on the "strong dollar headwinds" has also brought forth some selling pressure. However, we have seen how quickly this index can move and sometimes it only takes one stock to move the whole index as we have seen. A better gauge of earnings is the S&P 500 and the even broader Russell index.
---
Ford Earnings Example

Courtesy of wikipedia
There are lots of earnings out there, but I want to look at Ford as an example of how the strong dollar has already begun impacting both top-line revenue, bottom-line profits, and that will translate in to a decline in domestic manufacturing job growth or possibly even lay-offs. Ford is a great example, as a U.S. manufacture that is growing globally. It has been and will be an example used by politicians as to the importance of U.S. manufacturing jobs. It is also an American Icon.
Coca-Cola already warned about the headwinds of a strong dollar and the Keynesians in the Federal Reserve listen attentively to these multinationals and translate these concerns to weaker manufacturing job growth. No doubt that money is flowing to the lobbyist on K-Street to let Congress know that the strong dollar will hurt job growth.
Ford Earnings
Ford delivered earnings that beat expectations, but saw bottom-line profits decline substantially from a year ago. However, bottom line profits decline is less troublesome if top-line revenue is increasing. Ford has expanded overseas and looking at 23 new global launches, which doesn't include the new 16 launches in North America – which includes the highly anticipated all-aluminum F-150. So reinvesting and expanding eats up profits, but usually equates to stronger forward growth.
My concern was seeing top-line revenue decline from $33.86 billion to $32.9 billion. Remember at the end of the day it is all about revenue that drives growth. The question we need to ascertain is whether this revenue decline came from a decline of sales and from where or whether it was related to the dollar rally.
Ford sold 1.5 million vehicles globally and that was down slightly from a year ago. Sales were mixed with strength in Asia (excluding China) up by 32% and wholesale volume in China grew 45%. The growth has helped the company hit record profits in the region. Europe has been improving for Ford, but the auto industry as a whole has seen weaker growth in Europe as the economy continues to struggle. South America has been a trouble stop with economic volatility.
While sales were down slightly on a year-over-year basis, the strong dollar certainly played a role in declining top-line revenue. In South America the strong dollar has cost over $400 million as their currencies declined. That story is playing out globally as the dollar continues to remain strong. Ford's decision is to lose sales as foreign shoppers may choose to buy a lower cost competitor or Ford must cut prices overseas to remain competitive. The story echo's Coca-Cola's concern that a strong dollar will impact sales globally, which translates to lower revenue, and that means fewer jobs domestically.
---
Keynesian Ideology
We know well the Keynesian and Fed ideology. I heard the Labor Secretary this morning on TV argue not only for minimum wage but for manufacturing jobs. The facts are clear and I do not disagree with the Keynesian or even the Democrat argument that a stronger dollar weakens US exports and hurts top-line revenue.
Yet we have had a very weak dollar for years since the crisis and we have not seen a huge boom in domestic manufacturing jobs. In fact we have seen the opposite, as the international firms have expanded over-seas manufacturing closer to where their growing consumers are. It makes sense, regardless of the dollar strength or weakness. There are other costs; shipping, labor, taxes, fines, healthcare, rent/leases, and even insurance all of which impact the bottom line as well. Another factor is time to market and deliverables. The closer you are to your customers the quicker you are able to deliver. So I would argue regardless of dollar weakness or strength, that the multinationals will continue to migrate to where the bulk of consumers are and where consumers income is growing. Those places are the BRICs and emerging markets.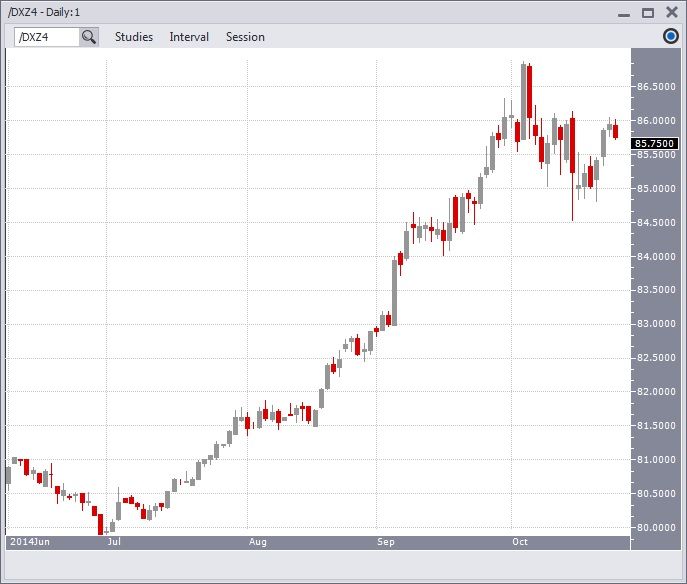 Courtesy of Silexx.com
The dollar weakness/strength argument today has more to do with profits than it has to do with domestic manufacturing jobs. Economists, businesses, and even I agree that it impacts the top-line and bottom line. However, the Keynesians like to extrapolate from this fact that for some reason that companies will bring manufacturing jobs back to the U.S. if the dollar is weak. Thus these Keynesians and their brethren ignore everything else; taxes, time to market, shipping costs, insurance, etc.
The Fed watches the trade deficit gap as well and they know it is going to widen on the strength of the dollar. Between the pressure from K-Street, the impact the strong dollar has on economic data (CPI, trade deficit), and the Keynesian ideology that a weak dollar creates manufacturing jobs – I firmly believe the Fed will maintain their dovish stance and keep rates at zero for longer than we think. They perhaps will take also QE type action soon to weaken the dollar and create inflation.
---
Support & Resistance
INDU 16,600 – 16,800
Talk about whip-saw and volatility and I suspect this will continue until we get word from the FOMC. I would look at 16,400 as intraday low support if any pressure comes back to the market, and suspect we will be in the 16,600 – 16,800 range until the FOMC.
NDX 3950 – 4050
It seems that the 4000 range is the straddle strike and we will continue to see volatility. I would expect a little consolidation in this zone before we make another move.
SPX 1940 – 1960
Much like the Dow Jones we could have intra-day pressure that sends this index down to 1920. However, I suspect that we hold in the 1940 – 1960 range for now. The VIX got a little jolt and should probably remain in the 15-19 range for now – as we wait for the Fed.
RUT 1120
The Russell seems like it has put a floor in at 1100 for now and looks like we could visit 1140 next week if we get a Dovish Fed. The RUT and the 10-year bonds are pricing in a dovish Fed and I think they are right.
---
Keep the faith?
While the Fed's ZIRP policy and QE seems to have been the cure-all from bad earnings , bad economic data, geopolitical volatility, that doesn't mean that it is. It has certainly masked the fundamental problems by addressing the symptoms and it has also bought us some time.
I also believe that while the faith in the Fed's monetary policy as well as our fiscal policies has waned recently, I still believe they can still sell the HOPE with more QE, ZIRP, and who knows what else. I am not sure how much more time it will buy or how much further it can drive the market higher before the fundamental realities come to roost.
More ZIRP, more QE, more easy money and dovish Fed will only continue to inflate the bubble.