Economic Data Confusion: Durable Goods & Housing
Yesterday the market looked strong in the morning, but by the noon session it had given up. I strongly believe this market wants to go higher and the global emerging market story continues to show top line growth. The problems, however, lie in the US political stalemate, the Japanese Yen devaluation and Europe's sovereign debt mess. The question on everyone's mind is can the Western political problems and economic stagnation curtail the strong emerging market growth? I think the answer contains a combination of market psychology and math. On one hand the domestic problems in the US and even in Europe are NOT having a tremendous impact on international corporation's balance sheets as emerging market growth continues to offset stagnation. So, in the short-term, it is really a psychological impact that is creating caution. The dollar index has remained above 80 and inflation is in check, but building. The long-term problem is the Western Nations leveraging up their debt on the balance sheets and the endless money printing. That means the long-term problem is math. So will the Durable Goods Orders and/or Housing numbers help the market to move higher?
---
Economic Data Confusion
Durable Goods
This morning the Commerce Department released the closely watched Durable Goods orders and it was such a mixed picture; there was something in there for everyone; Bulls, Bears, and even the "I don't knows". The Durable Goods orders top line number jumped 5.7% in February, far above economists' expectations of a 3.8% rise. That was good news, especially after the 4.9% tumble in January, which was revised to a "seasonally adjusted" decline of 3.8%.
However, once we peer behind the top-line numbers, the story gets rather interesting, if not confusing. If we exclude transportation, orders slipped 0.5% after a 2.9% rise in January, this was not good as economists expected to see a net rise in non-transportation orders. The big jump of the headline number to 5.7% came almost exclusively from transportation, mainly aircraft, which was up 21.7% (a front loaded number)
What was more disappointing was the Core Capital Goods orders (non-defense / excluding aircraft), which is a proxy for business spending, fell 2.7%, the largest decline in almost a year. This was a huge reverse from January's 6.7% jump. Again, it confirms that aircraft orders were a huge driver in the headline number.
Meanwhile, the Core Capital Goods shipments increased 1.9%, which followed a 0.7% decline in the previous month.
The other huge ramp-up was Defense orders, which also added to the top line number. It was a last minute jamming up the pipeline with defense orders before the "sequester" hit. Defense aircraft new orders ramped up 7.6%, while shipments were pushed out at an increase of 6.8%. The big Defense shocker was the MASSIVE increase in last minute new orders (to get in under the wire before the "sequester"), which came in at a whopping 68% increase.
It seems that products are moving out the door and being shipped, but new orders for domestic goods (excluding aircraft/transportation) are on the decline.
The only conclusion I can draw is that businesses are managing inventories very tightly and on a demand basis. This reflects concern as domestic companies are reluctant to make any long-term ordering and inventory decisions. At least defense companies should have a decent 1st quarter, getting those last minute orders in under the "sequester" deadline. However, that should cool off into the second quarter and we could see a drop in the top-line Durable Goods orders.
Courtesy of the US Commerce Department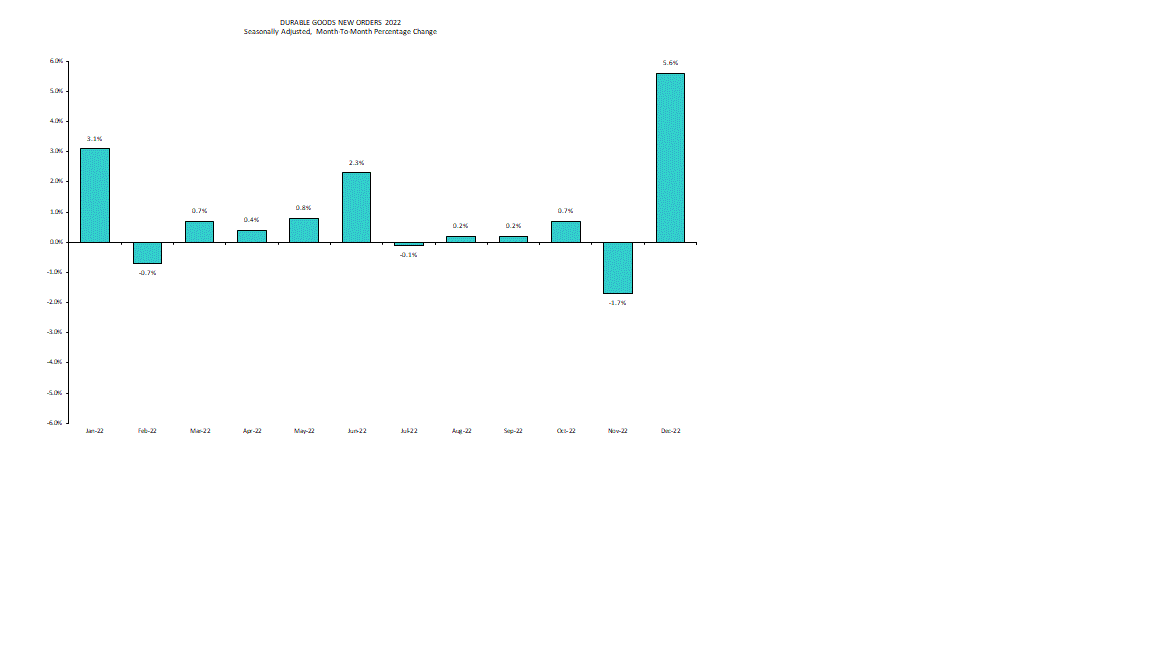 Case-Shiller Home Price Index
While the Durable Goods report brought some pessimism to the pre-market futures which started to decline, it was the housing data that returned optimism, sending those pre-market futures rebounding.
The Case-Shiller Home index reflected a "seasonally adjusted" net 1% month-on-month gain in January. This came in better than the 0.9% increase economists expected. Not to deflate anyone's bubble, but if we back out the "seasonal adjustment" and look at the raw data, the prices rose only 0.1%, which is well within the margin of error.
The good news is that prices climbed 8.1% on a year-over-year basis in the 20 metropolitan areas in the index, which was the largest annual increase in over 6 years. It is this annual number that is grabbing headlines and has helped push the pre-market futures higher after the rather confusing and somewhat disappointing Durable Goods Orders.
---
Support & Resistance
INDU 14,500
We tried to push higher and I thought we would close above the 14,500 level yesterday; however, that Cyprus story, even with the last minute bailout, is not leaving the 24-hour news cycle. Other European leaders have noted they may take similar action towards other bank failures going forward, which means those with over 100,000 euros in their bank accounts may not be safe. We saw European bank stocks under pressure. No longer "too big to fail" means that financial institutions may have to go bust rather than be bailed out. Of course this is just talk, but it did send a clear warning sign to the financial markets in Europe. Could the Housing numbers get the market back above 14,500?
NDX 2800
The Dell story is getting rather confusing and is bringing some valuation concerns to some hardware makers. Apple has bounced off the $420 range and has climbed to almost $470; however, there is some stiff competition with Samsung and Google. There will most likely be selling pressure in the $480 – $500 range. For now the NDX needs to get solidly above 2800 and put in some volume at that level if it is to become a support area.
SPX 1550
This remains a straddle strike and in the last week the index has been stuck in a 1540-1570 range. The VIX fell to 11.2 before popping back above 13 and remaining there. If we remain in this narrowing range we could see hidden volatility mount as we get ready for a break-out higher or lower in violent fashion.
RUT 940 – 960
With 950 right in the middle this is the short-term straddle strike range. The dollar index remains at the 83 level, 10-year yield is stuck at 1.9-2.0, and liquidity remains thin. There are some good stories out there as the emerging market grows, but domestic psychology and concerns in Japan and Europe continue to drag on the equities market.
---
All eyes are still watching Europe and Cyprus. This morning's news was that those with deposits over 100,000 euros could lose over 40%, with some banks targeted to lose as much as 80%. The banks were supposed to open today, but remained closed and the Russians have yet to launch any serious salvo from Moscow. Sometimes it is even more alarming not to hear or see any threats come from Russia, knowing they are loaded for bear and keeping their powder dry.
Yesterday, comments out of Europe sent the markets back into the red across Europe and the US. I am not sure if this is just posturing to show Russia that Cyprus is the exception to the rule, but rather it will be the rule for all European banks. However, I don't think Russia will buy that story after seeing 100s of billions in bailouts go to Spain, Greece, and Italy.
The cracks are widening in the banking sector in Europe. What next? It is the "what next" that investors and the market are waiting for?